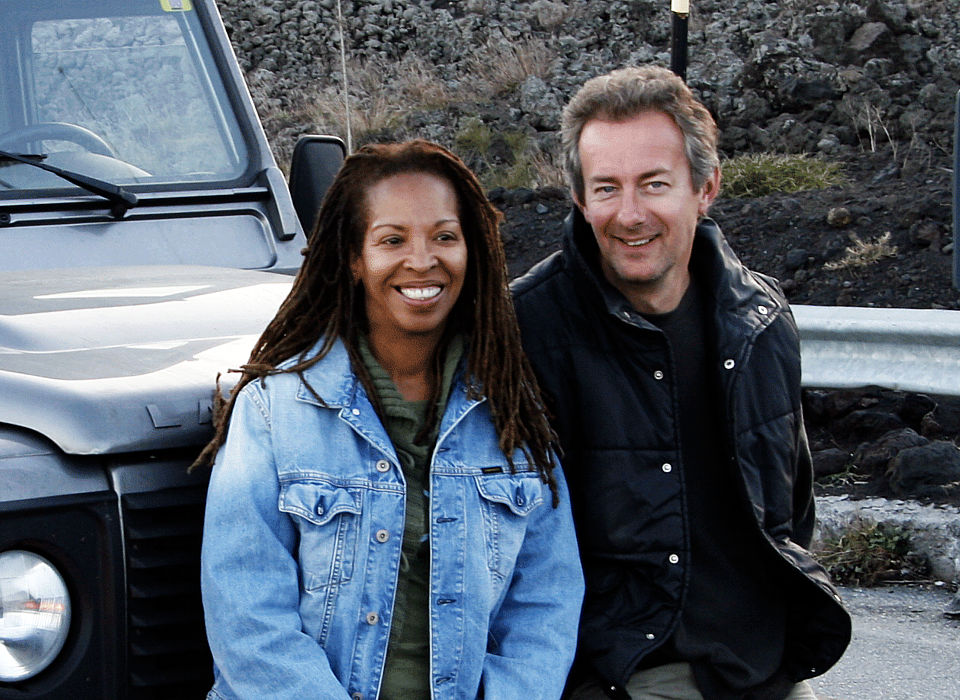 Trente Hargrave and Filip Kesteloot are Belgium art dealers, who ended up in the wine business rather by chance...
On a cold rainy October day in 2003, they found themselves lost in the back roads of Etna. After hours of driving - the sun was just setting as torrents of rain rushed around the narrow curves, transforming the road into a muddy rapids -, they spotted a rather obscure sign marked 'Strada del Vino' - Wine Road. They ventured up this battered country road which brought them to the wine estate of Marco de Gracia who welcomed them and offered "a cup of tea".
Sipping their tea, and they told Marco of their not so pleasant experience of agreeing to buy a property in Sicily only to have the owner sell it to someone else informing them just a week before they were to finalize the sale. Despite their disappointment they returned to Sicily for a vacation. De Gracia was very enthusiastic about Sicily in particular the grapes grown around Mount Etna and began to talk about a vineyard he had come across for sale which he described as, "A jewel of a property with 2 hectares land." Hargrave and Kesteloot responded, "We're not interested and it's way too big!" But de Grazia continued, "It has a wonderful old impeccable vineyard and plenty of olives trees." Hargrave and Kesteloot responded, "Not interested, anyway it sounds like lots of work." De Grazia continued his enthusiastic description, "There are two old palmettos (wine presses and their building) that needs restoring" once again Hargrave and Kesteloot responded, "Not interested, besides being in the art business we also have experience with building renovations, so we know it is definitely too much work!" De Grazia still continued, "It has a fantastic view of Mount Etna!" Hargrave and Kesteloot shook their heads and again said, "Not interested though it sounds nice and IF we were interested, the property would have to have a view of the sea." to which he replied "Ha! It also has a view of the sea as well from the top of the property." "Sounds very nice but still not interested", they said again.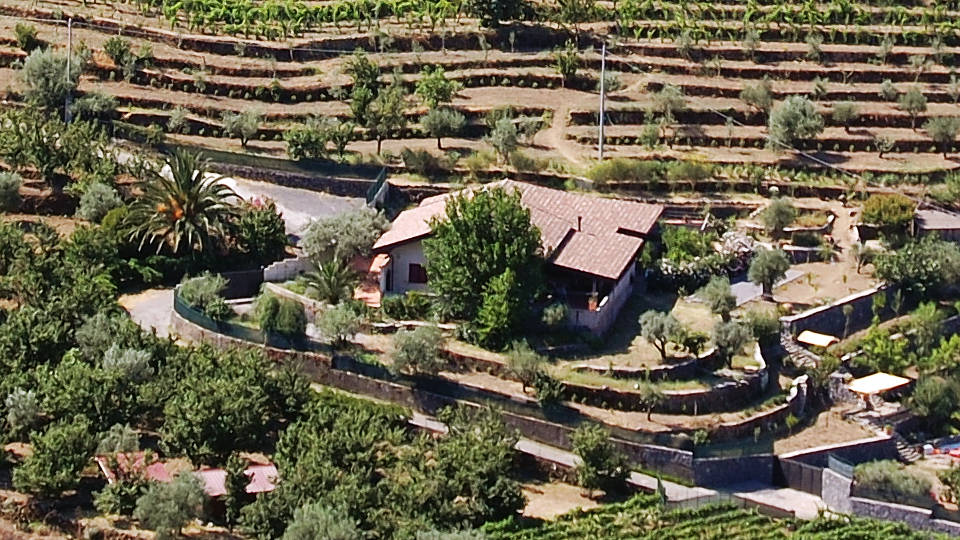 Then came a knock at the door, de Gracia opened it to welcome in an old farmer. They were introduced and after his meeting with de Gracia, the man left. When de Gracia returned, Hargrave and Kesteloot asked how could they see this property. "Excuse me?" de Gracia replied puzzled, "just a minute ago I described the one of the most gorgeous property around Mount Etna and you were not a bit interested. What changed your mind?" Hargrave answered, "Remember the man you just introduced us to?" "Yes, of course!" replied de Grazia. "Well, I have Sicilian relatives with exactly the same last name," said Hargrave "so this is a sign that we should take a look at this property."
On their way back to their B&B they passed through the village of Linguaglossa where the property was. So they stopped by the shop where they were told they could find the young guy who knew about the property. They presented de Gracia's card and immediately he offered to show them the property. Pitch black and still raining steadily they visited the property, when he turned on the lights several rats scurried over the umbrella beamed ceiling. "So how do you like it?" he asked and they responded, "Interesting." as a bat flew by. They went outside where the young guy pointed and said "There is Mount Etna." with barely an arm's length of visibility they said, "Interesting." At the top of the property they are provided with rain jackets but, not boots. "Here is the vineyard," he said, as he walked them through ankle deep mud, he pointed to the left and said "over there is the sea," once again Hargrave and Kesteloot said, "Interesting but we think it is best to return when there is light and it is not raining."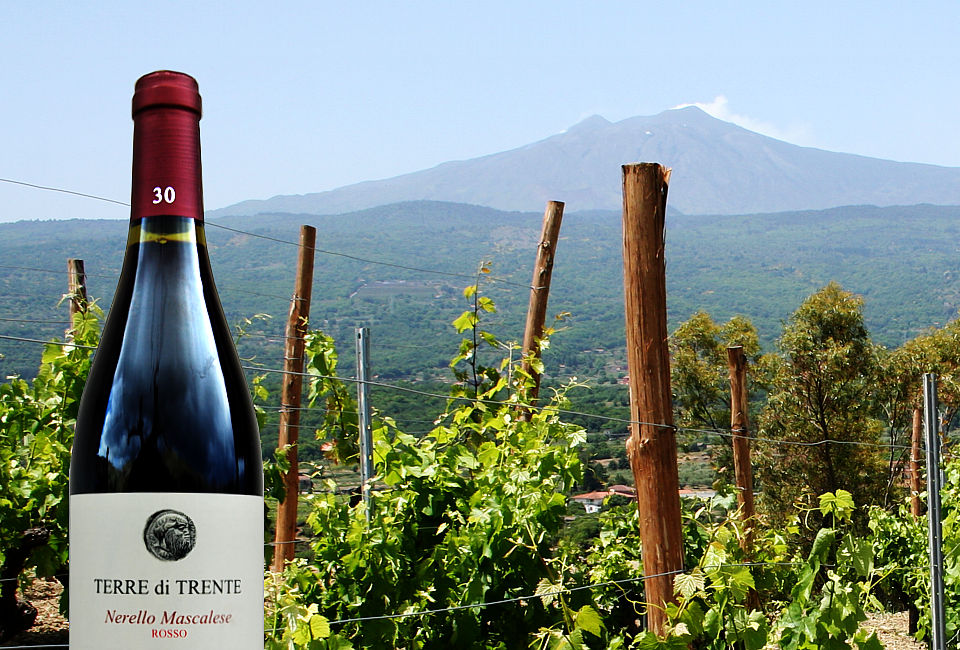 The following day though it was still raining, they drove back to Mount Etna, found the village with the funny name, curious to see a property they were not interested in buying. Still, neither Mount Etna nor sea was visible. Yet, standing still in the gentle rain they felt something special about this lush, fertile, semi-tamed property, call it magic or whatever, they decided on the spot to buy it and that was the beginning of "Terre di Trente". As they strive for quality in all their work they started with one of the leading local oenologists to whom they explained that they wanted to make a piece of art, a wine where everything is natural with no chemicals used in the process or in the soil. They succeeded very well in doing this.
Terre di Trente is the magic combination of ivory and ebony soils which help produce its fine structure, sexy and complex earthy aroma, a piece of art. The wine is the collaboration between the love of art and the passion of wine making. It is a lifestyle: the ultimate luxury for the connoisseur's taste.
Salute!